Explore the map
Using Overview Map
By clicking on the overview map widget button

it will open the overview widget that allows you to view your current map extent in reference to the City of Tulsa.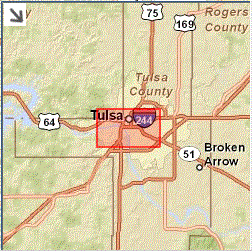 The red rectangle represents the current map extent, and move and resizes as you move around the map.
You can click inside the red rectangle with you left mouse button and drag the rectangle to another area of the overview map and your main map's extent will move and be updated to match.
To close the overview map just click on the arrow as indicated in the below image